---
JEVERA wins Clutch Leader Award 2019!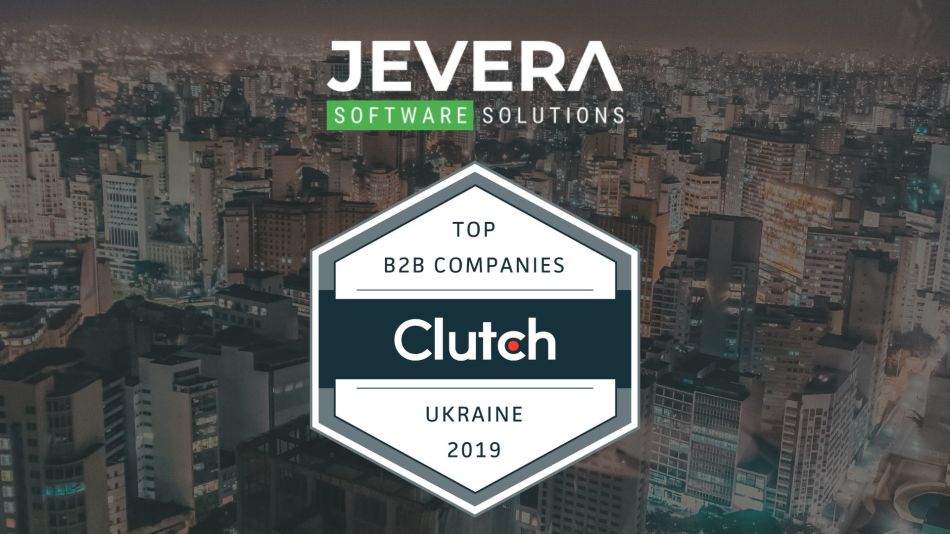 JEVERA (JBS) Recognized Wins Clutch Leader Award for Top IT & Business Services Companies!
For the second year in a row, Clutch has recognized JEVERA as one of the top companies in Ukraine within the IT and business services space. Wow! It looks like lightning does strike twice!
Clutch is a data-driven B2B research and ratings platform that strives to connect buyers with the right service providers. They follow a unique scoring methodology to evaluate a company's market presence, ability to deliver, and technical experience. Take a look at our Clutch break down below.

We rank highly for our 2 main focus areas:

Data Engineering
- Data management (processing, migration, visualization, governance)
- High-load systems
- Monolith to Microservices
- Cloud migration

Custom Development Services
- Modernization of software systems
- Enterprise software
Beyond services rendered, one of the most important factors in Clutch's ranking system is verified client reviews. In order to get a complete picture of a client's experience from start to finish, Clutch's business analysts personally interview a company's past partners and collect feedback. Their team then uses that information to create a case study-like review. Their goal is to equip buyers with the data they need to make better purchasing decisions.
With an overall 5-star score, we're thankful to our clients for leaving such positive reviews of our work! That feedback has also allowed us to be featured (again) on Clutch's sister sites. The Manifest, a business resource guide, recognized us in a recent research list of top-ranked data analytics companies in Ukraine. And we're working to have our portfolio featured on Visual Object's directory of the most highly-skilled developers.
Once again, we'd like to thank our clients from the bottom of our heart:
"We are pleased JEVERA is again among the Clutch leaders on software development. Grateful to our clients for the support!"
— Julia Sukhorukova, Head of Sales channels development
If you're looking to build an MVP with us or have another project in mind, get in touch with our team to learn more about your options! As an award-winning tech firm that specializes in custom software services, we're sure to be an asset to your business.